Palm Sunday   March 25th
 Blessed is he who comes in the name of the Lord! -Ps118:26
Jesus' triumphal entry into Jerusalem! Pilgrim Egeria tells of a procession of people down the Mount of Olives into Jerusalem with the people waving branches of palms or olive trees as they walked.
8:15 am Eucharist St. Elizabeth's Chapel
9:30 am Sunday School makes palm crosses in Ledyard Hall -everyone welcome.
Adult Bible Study Cary Lounge
10:30 am Eucharist w/ music
The congregation meets in Ledyard Hall to receive palms & process into the church.
11:30 am Coffee Hour Ledyard Hall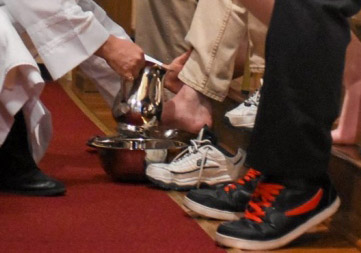 Maundy Thursday March 29th
A new command I give you: Love one another. As I have
loved you, so you must love one another. -Jn 13:34
This night, before Jesus was handed over to the authorities, he celebrated the Passover feast which has become our Eucharist, and he demonstrated generous, humble service in washing the feet of his followers. As this service ends, the altar is stripped, and all decorative furnishings are removed from the church as we prepare for Good Friday.
6:00 pm Lamb Dinner Ledyard Hall RSVP, Atrium
7:00 pm Eucharist and Foot Washing Church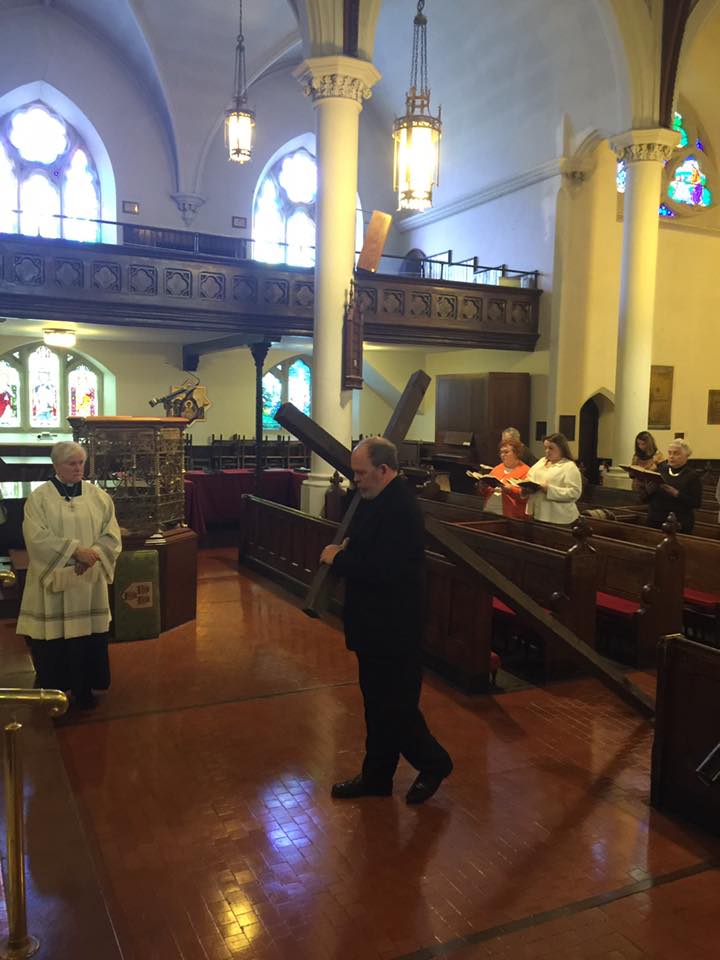 Good Friday March 30th
It is finished. -Jn 19:30
We commemorate the crucifixion of Jesus with a day of fasting and special acts of discipline and self-denial. Our solemn midday observance features The Christ Church Choir w/ Katrina Van Maanen, soprano.
12:15 pm Requiem by John Rutter
Miserere by Gregorio Allegri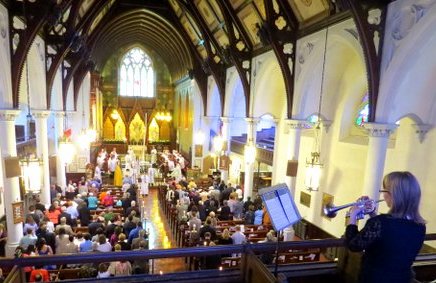 Easter Sunday-April 1, 2018
Easter Day is the annual feast of the resurrection, the Christian Passover, and the eighth day of cosmic creation. Faith in Jesus' resurrection on the Sunday or third day following his crucifixion is at the heart of Christian belief. Easter sets the experience of springtime next to the ancient stories of deliverance and the proclamation of the risen Christ.
8:00 am Easter Vigil With this service, Holy Week ends, and our celebration of Easter begins at Christ Church Detroit. We start in our Courtyard with the kindling of new fire. The fire is then brought into the church, and the Paschal candle is lit from it.
8:30 am Meals on Wheels Deliveries Ledyard Hall We make the deliveries so the regular drivers can have the holiday off. You'll be back in time for the 11 am service. Find a buddy and sign up in the Atrium. Contact Margo Norris for more information.
9:00 am Light Breakfast in the Atrium following the Easter Vigil
no Sunday School for children, no Adult Bible Study
11:00 am Festival Service This, our highest festival service, begins with the children's presentation of lilies and will include glorious music with traditional favorites and excerpts from Handel's Messiah.
Noon        Easter Egg Hunt Lower Level
Coffee Hour Ledyard Hall