Capital Campaign News and Updates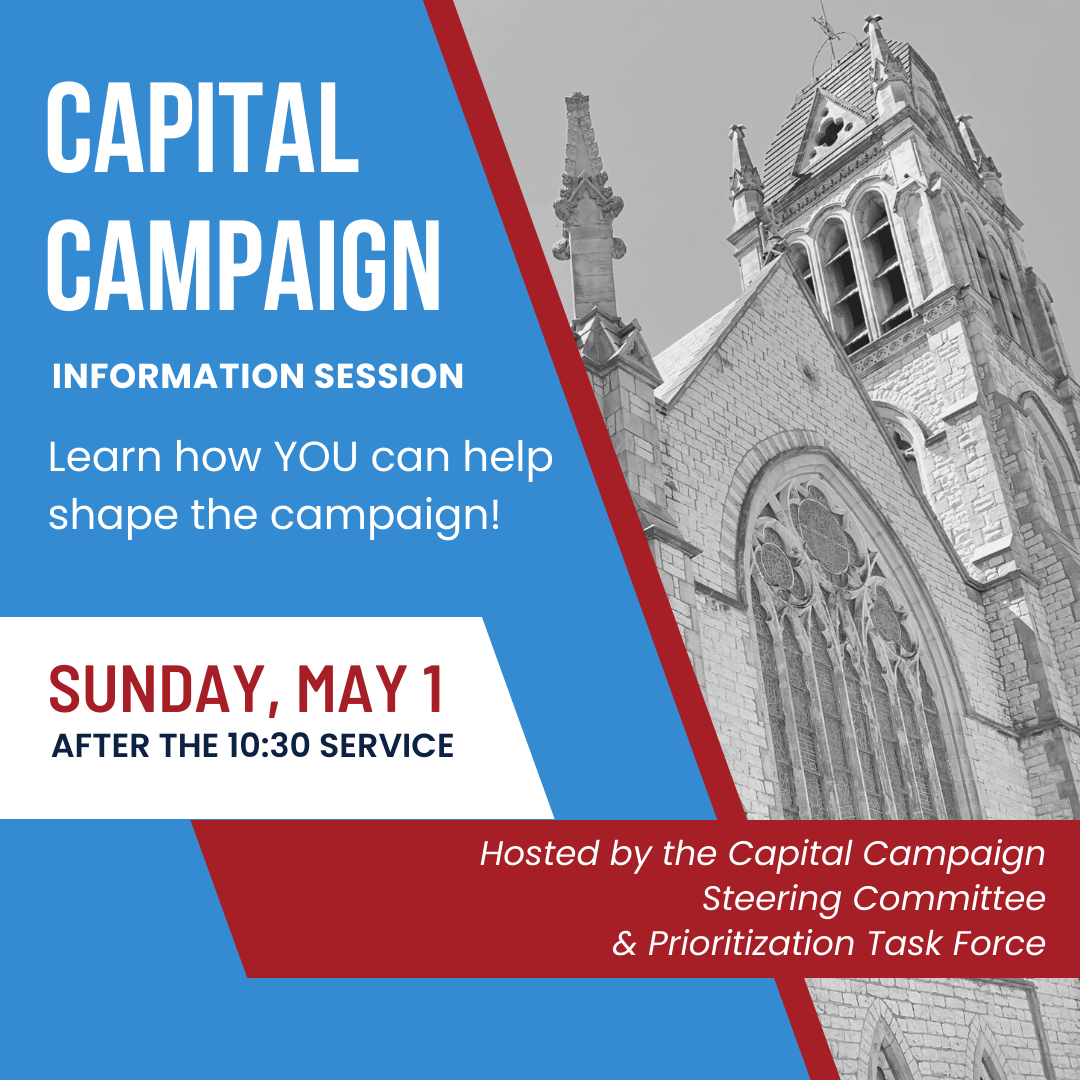 Capital Campaign Information Session
Sunday, May 1st after the 10:30 Service
Ledyard Hall
You're invited to a brief info session in Ledyard Hall about how you can be part of shaping the priorities for our upcoming capital campaign.
What needs do our buildings have? How can we deepen and expand our mission? Learn about some of the projects under consideration, and how you can participate in parish listening sessions later in the month.
The forthcoming sessions will be a time to share your thoughts and dreams of the future for Christ Church, and help the Steering Committee prioritize the next steps.

Christ Church Welcomes Partners for Sacred Places
The Vestry is pleased to report that they have approved the launch of a feasibility study to inform a capital campaign. Based on interviews conducted by the Capital Campaign Steering Committee, national nonprofit Partners for Sacred Places was hired to provide consulting services including this study, which will provide insight on how parishioners and neighbors feel about the church and its work, and what priorities various potential donors have. 
The feasibility study uses individual interviews and independent research to analyze the current state of Christ Church, its fundraising capacity, and its impact in its neighborhood, and will outline a roadmap for implementing a community-wide capital campaign.
Timing for the study is slated for early December through February 2021. If you have any questions, please contact Rev. Emily or Senior Warden Lisa Jones.
Learn More About Our New Partners – Partners for Sacred Places
Founded in 1989, Partners for Sacred Places is the only national, non-sectarian, nonprofit organization focused on building the capacity of congregations of historic sacred places to better serve their communities as anchor institutions, nurturing transformation, and shaping vibrant, creative communities.
Every sacred place is the center of a unique network for parishioners, neighbors, and friends. Having worked with thousands of sacred places across the country, Partners is uniquely positioned to help faith and lay leaders leverage these networks. Built on groundbreaking research and decades of diverse experiences, Partners' expertise has helped congregations meet, and exceed, their goals – both in fundraising and community impact.