We are located on Jefferson Avenue in Detroit, about one half mile east of the Renaissance Center and close to the Detroit RiverWalk. If heading east from downtown, the large Blue Cross-Blue Shield billboard marks our back parking lot.
Easiest access is from Jefferson Avenue. Turn onto Rivard Street (toward the river). Take the first right from Rivard onto Woodbridge Street, where there is church parking.
PARKING
There is ample parking, free and guarded, in the surface lot beside the church, and in the larger surface lot at the rear of the church (across the street). Both lots are accessed from Woodbridge Street. On Sundays, you can enter the side parking lot directly from Jefferson Avenue.
CHURCH ENTRANCES
The most convenient door is the glass atrium entrance which is at the rear of the church, facing Woodbridge Street. If you find it locked on a weekday, please press the buzzer to speak to the receptionist. This entrance is close to both of the parking lots and looks like this: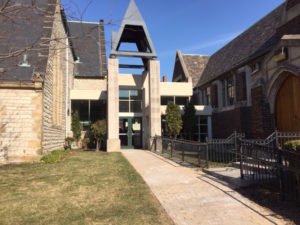 The large wooden front doors on Jefferson Avenue are also open on Sundays and for special events.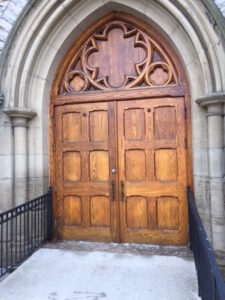 To access the church offices, use the Sibley House entrance during office hours, which are typically Monday-Friday 10am-3pm. Sibley House is on Jefferson Avenue just east of the church. It looks like this, and you will need to ring the doorbell.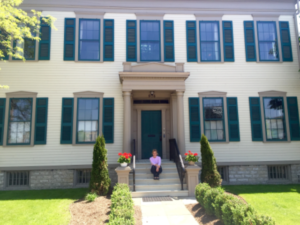 LOCATION
Christ Church Detroit
960 Jefferson Avenue
Detroit, MI 48207
office phone: 313.259.6688
Monday – Friday, 10 am – 3 pm
office fax: 313.259.1087
8:15 am Spoken Eucharist
10:30 am Eucharist with full choir (September – early June)
Eucharist with music (early June through August)
See Worship Schedule | Contact Us